Welcome to our Pokemon Go Fighting Type Tier List of the Best Fighting Pokemon for Defending and Prestiging Gyms. We have the complete list of Fighting Pokemon, moves, weaknesses and locations that players are catching them.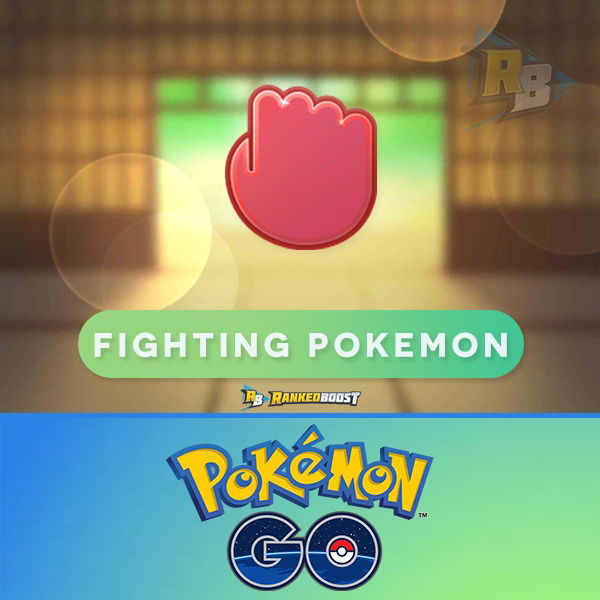 Fighting Pokemon List
You sort by Max CP, Attack, Defense, Stamina and view the Best Bug Pokemon.
All Fighting Pokemon Go List : Click/Tap The Pokemon Names/Images For Additional Information.
Gen 4 Pokemon GO Fighting Pokemon
Upcoming Gen 4 Pokemon GO Figthing Pokemon List.
The list of all the Pokemon GO Fighting Type Moves, Quick and Charge Moves DPS, Cooldown (CD), EPS (Enegery Per Second) and other useful stats.
Pokemon GO Fighting Moves
| Type | Quick Move | EPS | CD | DMG | DPS |
| --- | --- | --- | --- | --- | --- |
| | Counter | 8.89 | 0.9 | 12 | 13.33 |
| | Karate Chop | 12.5 | 0.8 | 8 | 10 |
| | Low Kick | 10 | 0.6 | 6 | 10 |
| Type | Charge Move | Energy | CD | DMG | DPS |
| --- | --- | --- | --- | --- | --- |
| | Close Combat | | 2.3 | 100 | 43.48 |
| | Focus Blast | | 3.5 | 140 | 40 |
| | Cross Chop | | 1.5 | 50 | 33.33 |
| | Dynamic Punch | | 2.7 | 90 | 33.33 |
| | Submission | | 2.2 | 60 | 27.27 |
| | Brick Break | | 1.6 | 40 | 25 |
| | Low Sweep | | 1.9 | 40 | 21.05 |
Pokemon GO Best Fighting Pokemon
Pokemon Go Fighting Type Spawn Locations
Gyms – Sport Centers – Stadiums – Recreation Area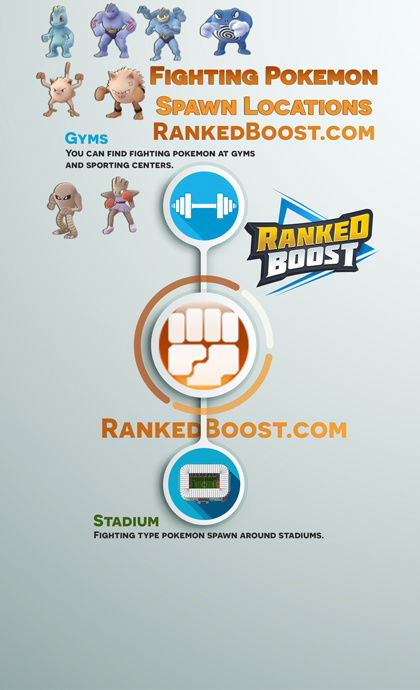 Pokemon Go Fighting Type Weakness & Strengths